Contact Info
Kiwanis Foundation of Canada
P.O. Box 5034
Brantford, Ontario
N3T 6J7
T: 519.304.3038

NEW CLUB OPENING GRANT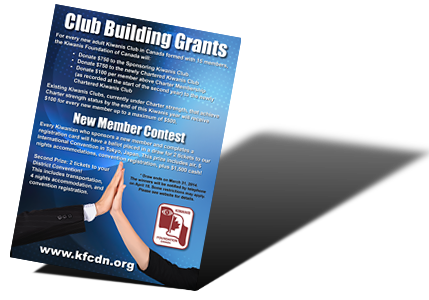 The New Club Opening Grant program will apply to every Adult Kiwanis Club Chartered after October 1, 2018 to September 30, 2019.
The New Club Opening Grant
Confirmation of a New Adult Kiwanis Club in Canada, of 15 New Members, the following NEW CLUB 0PENING GRANT will be provided:
Upon proof of charter.
$1,000 will be donated to the Sponsoring Kiwanis Club's Service account
$500 will be donated to the New Club's Service account
At the beginning of the new club's 2nd year, the Foundation will contribute $100 per new member above the Clubs Charter Membership.
Incentive Formula for Clubs Under Charter Growth
Kiwanis Clubs that achieve Charter Strength from October 1, 2018 to September 30, 2019 Kiwanis Years will receive a grant of $100.00 for each member added, to a maximum of $500.00 per club. This Grant will be provided once the membership report is received from Kiwanis International for the next Kiwanis year (2019-2020) confirming the club is charter strength or above.
UNDERSTANDING OF WHAT IS A NEW MEMBER:
A new member is not a member that is already a member of another Kiwanis Club or transfers their membership from another Kiwanis Club.