Mel Osborne Fellowship
The Kiwanis Foundation of Canada has brought into existence an award which honours Kiwanians and others who have contributed to the growth and work of Kiwanis.
---
Community Leader Award
Clubs may apply for a Mel Osborne Fellowship, in a Shadowbox format, for presentation to any non Kiwanis member in their community.
Our ELIMINATE Project
Breaking News - The Government of Canada donates $2.5 Million in matching funds to our Kiwanis global service project: ELIMINATE. (NOTE: MATCHING FUNDS CANNOT BE USED AS A CREDIT FOR INDIVIDUAL ELIMINATE AWARDS )
For more information please click here
---
New Club Opening Grant
The Kiwanis Foundation of Canada is thrilled to announce our New Club Opening Grant. Find out how you can apply today!
Bahamas Hurricane Relief
Hurricane Joaquin has left a trail of destruction in The Bahamas, leaving extensive flooding, hundreds of homes destroyed, buildings damaged, and persons homeless
---
Youth Program Grant
Does your Club Donate to a Youth Organization every year?
Check out our Youth Program Grant
Committed to Extending A Helping Hand...
We are a nonprofit charitable foundation endorsed and approved in 1971 by the 3 Kiwanis Districts of Kiwanis International operating in Canada. It is a registered Charity and all donations are tax creditable in Canada.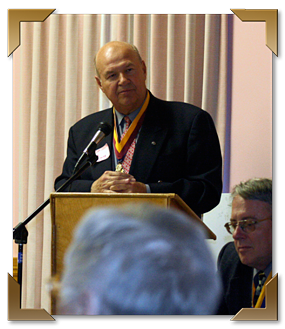 Kiwanis Foundation of Canada Past President, Former Governor Chuck McIlravey.
The Foundation is governed by a board of volunteer Kiwanians from the three Kiwanis Districts of Canada.
The Purposes are:
To provide financial support in many different ways including:
Promoting and providing financial support for Service Leadership Programs in all three Districts of Kiwanis in Canada (Pacific Northwest, Western Canada and Eastern Canada and the Caribbean).
Promoting and encouraging the presentation of scholarships by Kiwanis Clubs through the Matching Scholarship Program.
Collecting funds and administering the National Disaster Relief Fund.

Supporting Special Kiwanis Causes.



Financing:
The Foundation's funds are received primarily from individual Kiwanis Members and their Clubs in our three Districts of Kiwanis in Canada. Gifts from corporations, other foundations, groups and individuals are also received. All donations shall be used to carry out the Foundation's stated purposes, unless specified as endowment funds.
Save 100 Families in our 100th Year
The Kiwanis Foundation of Canada is pleased to launch our Save 100 Families campaign to raise money for our global service project: ELIMINATE. For a $200 tax-deductible donation you will save 100 families from the scourge that we know as Maternal Neonatal Tetanus. This donation will be matched up to December 31, 2016 by the Government of Canada Eliminate Matching Grant Program.