Contact Info
Kiwanis Foundation of Canada
P.O. Box 5034
Brantford, Ontario
N3T 6J7
T: 519.304.3038

in Partnership with the Kiwanis Foundation of Canada needs your support.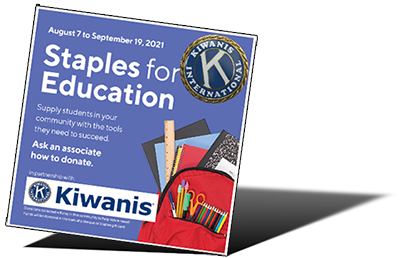 Staples and Kiwanis are working together once again to support the youth in Ontario communities that have Staples store locations. The monies donated at the checkouts will stay in the store's community to help youth in need with educational products and scholarships to support higher education and achievement.
You will receive a tax receipt automatically through CanadaHelps
THE PROGRAM AND GOAL
Staples Ontario is offering to collect donations at their cash registers and give them to our clubs.

Staples suggests that past Ontario programs have yielded upward of $500,000. There are no conditions on how the funds are spent, other than they be used to further our club's community service goals. Monies can go to the Division for distribution or to Clubs directly. Payments can be received by cheque, gift cards or store credits.
WHAT YOU NEED TO DO TO MAKE THIS ALL WORK?
Kiwanis clubs must reach out to the Staples stores in their communities and establish a working relationship with the Store Manager.